History
Early Years
Dawar Technologies began in 1883 as a commercial printer and typographer under the name Warde Press. A later partnership with Frank Davis led to the name change Davis and Warde, which existed until 1998. For many years, we produced very high-quality annual reports and corporate brochures for Pittsburgh-based Fortune 500 companies and others. During the mid-'70s, a screen-printing operation was started in-house producing posters, banners and signage, which eventually evolved into printing on polycarbonate film in the mid-'80s.
Expansion into New Markets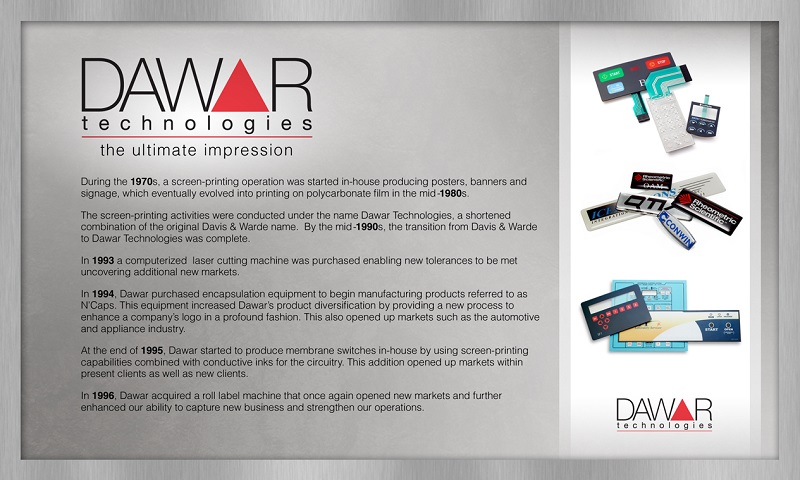 In 1985, Dawar Technologies was formed to accommodate the increased market activity in the screen-printing area.
The screen-printing activities were conducted under the name Dawar Technologies, a shortened combination of the name Davis & Warde name. By the mid-1990s, the transition from Davis & Warde to Dawar Technologies was complete.
In November 1993, Dawar acquired a computerized laser cutting machine to enable us to cut in tolerances not available on die cutting presses, opening up markets not previously available.
During 1994, Dawar purchased encapsulation equipment, now producing the products referred to as N'Caps. This equipment increased Dawar's product diversification by providing a new process to enhance a company's logo in a profound fashion. This also opened up markets such as the automotive and appliance industry.
At the end of 1995, Dawar started to produce membrane switches in-house by using our screen-printing capabilities combined with conductive inks for the circuitry. This addition opened up markets within our present clients as well as new clients.
In 1996, Dawar acquired a roll label machine that once again opened new markets and further enhanced our ability to capture new business and strengthen our operations.
On May 29, 1998, Dawar Technologies was acquired by a management partnership group to further expand the business through significant changes in sales, production and possible acquisitions.
Introduction of DawarTouch®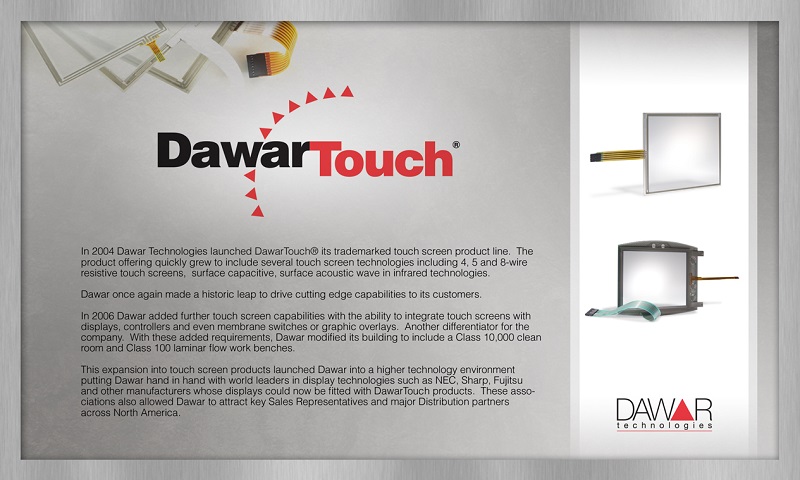 During the spring of 1999, Dawar moved its operations into a 24,000 square-foot building on Pittsburgh's North Shore.
In 2002, a significant investment in milling, implanting and encoding equipment facilitated entrance into the emerging high-technology market of smart cards.
In 2004, Dawar entered into a new era with the introduction of DawarTouch®, another solution from Dawar's line of human interface products.
In March 2006, Dawar announced the addition of Integrated Touch Monitors (ITMs) to the DawarTouch® product line. Integrated Touch Monitors are a combination solution incorporating the touch panel, monitor, controller and software to provide a complete product to the end customer. This addition allows us to focus on the customer's touch monitor requirements from conception to implementation.
In May 2007, Dawar facilities were again enhanced with the addition of a new Class 10K clean room. It includes a laminar flow bench to produce high-quality touch screen integration products. This expansion was necessary to meet current customer requirements and support our continued growth.
Continued Expansion
In December 2008, Dawar moved to a new 47,000 facility on the North Shore of Pittsburgh, occupying 23,000 square feet of space with an eye on having additional space to continue growing the business. The new facility also allowed for expansion of the clean room to an additional 1300 square feet.
In November 2011, Dawar began modifications to the Pittsburgh factory to accommodate the installation of a new production line that would produce their new Multi-Touch Projected Capacitive Touch Screens. A major redesign and expansion to the clean room brings the total area of the clean room to 7,500 square feet.
Strategic Focus on Touch Screen Products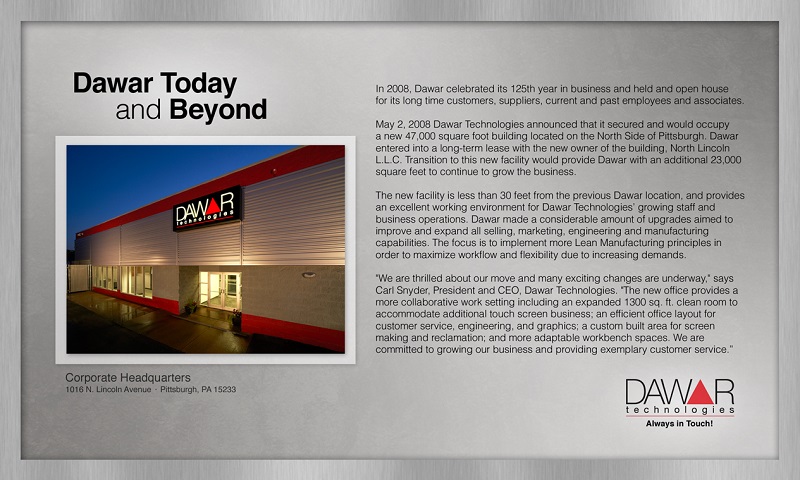 In April 2012, Dawar officially announced to the market the manufacturing of Multi-Touch Projected Capacitive Touch Screens produced in their Pittsburgh based facility. Their product offering includes Controller Board and Chip on Flex designs in both standard and custom solutions ranging from 4.3"W to 24"W.
September 2013, Dawar begins the expansion project on their class 10K clean room adding an additional 5,000 square feet to accommodate future growth.
January 2015, Dawar signs the official agreement with JN White Designs for the sale of the legacy portion of their business including in-house manufactured labels, graphic overlay and membrane switches. The sale allows for a strategic focus on touch screen products and value added services moving forward.
June 2015, the PCAP product line expansion occured to include Glass-Film-Film sensors along with the addition of Optical Bonding equipment to further enhance their integration services.
Dawar Technologies has been owned by the current group of local investors, including members of management, since 1998 and has an ownership philosophy that is committed to the long term growth and success of the business under its current structure.